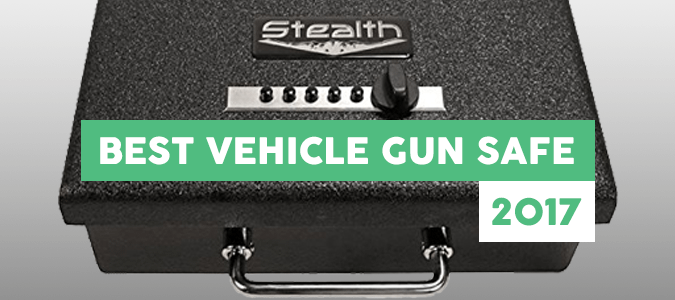 Do you own a gun and want to be able to transport it safely in your vehicle? In that case, in the ideal world, you want to get your hands on the best vehicle gun safe.
Not only will it provide a convenient storage solution and make transportation easier. It's also a good safety practice for gun owners to make sure their gun stay secure if they bring it with them.
The top 5 best vehicle gun safes listed below are the ones which consumers have voted most positive in 2017. After reviewing them, we understand why.

Top 5 – Best Vehicle Gun Safe in 2017
#1

Stealth Original Handgun Safe Steel Pistol Box Concealed Weapon Storage
The Stealth Original Handgun Safe Steel Pistol Box is, hands down, the best vehicle gun safe in 2017. This safe is pure quality and offers everything you need to safely store your handgun in your car.
First of all, it has a rock solid 10-gauge steel body with a 7-gauge wrap around steel door. That is, my friend, more than enough to withstand an attack from the most common burglars out there.
To combat pry attacks it's equipped with a chrome plated locking bolt, steel lugs, and 2 steel dead bars. These security features along with the welded continuous hinge makes it highly pry-resistant. You can also mount the safe in your car, nightstand, or any other flat surface with the pre-drilled mounting holes.
The interior is fully padded and offers space for up to two handguns with ammunition. To make it easy to transport the safe in and out of your vehicle it has a chrome plated carrying hand
Another awesome benefit with this safe is the reliable and easy-to-use simplex lock. This type of lock is ideal for a portable safe as it doesn't require a power source. This allows for reliable access and you don't have to think about changing batteries when you are on the go.
The simplex lock also makes it extremely easy to set your combination and you have over 1,081 to choose from. Additionally, Stealth made the lock resistant to punch attacks by enclosing the lock in a steel box.
#2

First Alert 5200DF Portable Handgun or Pistol Safe
Second, on the list we have the First Alert 5200DF Portable Handgun or Pistol Safe. This portable gun safe was literally designed to secure your handgun during transportation.
It has a sturdy 18-gauge steel construction and a soft padded interior for your handgun. Do you have more than one handgun? Don't worry, it has the capacity to accommodate two handguns with ammunition.
Further, it's equipped with an electronic that offers quick access with a 3 to 8 digit combination. To give you even faster access to your gun the door is spring-loaded and will open instantly for you.
FirstAlert will also throw in a free steel security cable that you can use to secure the safe in your car. Additionally, it has mounting holes that can be used to ground the safe.
#3

SentrySafe PP1K Portable Pistol Safe
The SentrySafe PP1K Portable Pistol Safe is another popular vehicle gun safe. It has a 12-gauge steel construction with a pry-resistant door design. It will easily hold your full sized handgun with ammunition.
To prevent unwanted access, it uses a key lock with a high-security tubular key. The locking mechanism is strongly reinforced with a 3-point locking system.
To protect your handgun during transportation the interior has a high-density foam. Additionally, you can secure the safe in your car with the free heavy-duty steel cable. The cam clutch system allows you to connect the cable from either side of the safe.
#4

SnapSafe Lockbox with Key Lock for Handgun Storage of Full Size Pistols
At 4th place we have the SnapSafe Lockbox with Key Lock for Handgun Storage of Full Size Pistols. This lockbox is for people who are looking for a small and affortable option to store their gun in their car.
This small lockbox is suprisingly sturdy with it's 16-gauge steel construction. It will fit a full size pistol that will rest nicely in the foam padded interior.
It's equipped with an easy-to-use metal tab key lock with two keys included. You will also get a security steel cable that will prevent the safe from being stolen.
Another thing that a lot of people appreciate with the SnapSafe Loxbock is that it's TSA approved. It's the ultimate portable gun safe that is pefect for your car and when you fly.
#5

GunVault NV200 NanoVault 200 with Key Lock (Black)
Last but not least, we have the very popular GunVault NV200. It has received more than 1,500 reviews and has an average rating of 4.5. It has the perfect size for a vehicle and can fit up to two handguns.
It's made with 21-gauge steel, has a padded interior, and an easy-to-operate key lock. GunVault also includes a security cable to all safes in the NV series, so you can secure the safe in your car. It's also TSA approved so you can bring it with you on flights.
If you look at the features and it's design you will notice it's very similar to the SnapSafe Lockbox. They are more or less the same safe, the GunVault NV200, however, is not as sturdy and slightly cheaper.
Before You Buy a Vehicle Gun Safe…
It's pretty straightforward to buy a gun safe for your car, we know. There are, however, three factors we want you to think about before you make the final decision.
#1 Pick the Right Size
Picking the right size for your car gun safe may seem like common sense to a lot of people. But it has happend that people have bought a safe and it didn't fit under their car seat which was the plan all along.
So, to eliminate mistakes make sure to figure out where you plan to keep the safe and measure that area. When you have the measurements, compare it with the external dimensions of the safe you plan to buy.
#2 Easy to Transport
If you plan to have the safe in your car at all time this is not going to be as important to you. If , however, you want the option to easily be able to carry the safe in and out of your vehicle — consider portability.
The size is not going to be the only factor that determine how easy you can transport your gun safe. Look for TSA approved safes if you want the option to carry your gun with you on flights as well.
#3 Security Is Not Everything
If you are looking to buy a vehicle gun safe it's important to not focus entirely on security features. There are far more convenient features that you want to look for, such as portability and size.
Most of the time, a vehicle gun safe is seen as a temporary storage solution for your gun. If someone decide to break into your car, it simply adds another obstacle for them to get their hands on your gun.
In that sense, it's easy to understand why most of these safes are small and not packed with the latest security features.
Popular Alternatives
Before you decide on the best vehicle gun safe, check out these popular alternatives for your car.

Gun Magnet w/ Adhesive Backing
You can mount this gun magnet anywhere including in your car. It's easy and fast to install and you can attach any size of firearm to it.
This allow for easy access to your handgun, the downside is that it does not offer any security for your gun.
Jotto Gear Quick Access Rugged Steel NRA Locking Handgun Holster for Car, Office, Many Locations
A neat holster for your car that keeps your handgun secure and provides easy access. It's easy to install with the mounting hardware and will protect your gun from thieves and children.
Conclusion
The best vehicle gun safe is a small safe that offers a beautiful mix of security and portability. In this article, we have provided you with a great diversity of vehicle gun safes.
If security is important to you, go with the Stealth Original Handgun safe. If you want decent security and portability go with the FirstAlert or the SentrySafe.
And if you want the best portability, the SnapSafe or the Gunvault is the best vehicle gun safe for you.
Good luck!