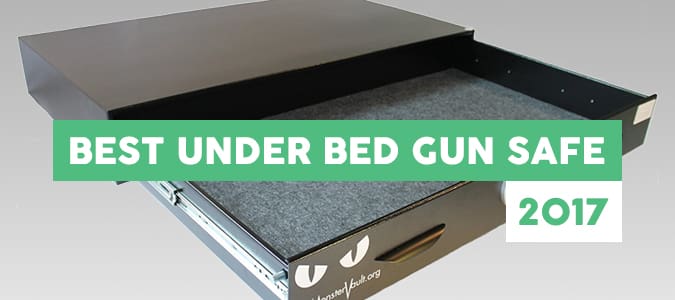 Investing in the best under bed gun safe is the best way to secure your firearms safely within arm's reach. With an under bed gun safe, you make the best out of the otherwise wasted space underneath your bed. For those with limited space, utilizing this space is the perfect solution to store your guns.
In this article, you will find the best under bed gun safes that the market has to offer in 2017.
Let's get started!

Best Under Bed Gun Safe 2017
#1

Monster Vault under the bed safe

icon-star

icon-star

icon-star

icon-star

icon-star-half-empty

140 lbs
7″ x 48″ x 28″
Electronic
Rating
Weight
Dimensions
Lock
Looking at the market today, the best under bed gun safe is the Monster Vault Under Bed Safe. It's designed to hold multiple long guns, handguns, and ammunition. This heavy-duty under bed gun safe is made out of 16-gauge steel and weighs over 140 lbs. It would require a great amount of effort for an intruder to walk away with this safe.
Easy and quick access is gained with the electronic lock and by turning the knob. You as a user can choose a 3 to 8 digit long combination code followed by the letter "A" or "B". The electronic lock features audible feedback and a low battery indicator light. You can also mute the keypress sound if you prefer a silent entry.
The heavy-duty drawer has the capacity to hold 100 lbs, and even though it's heavy, it opens smoothly and can be pulled by a single finger.
To ensure user reliability at any time you can always access the safe with the provided override key. Additionally, it has pre-drilled holes that can be used to anchor the safe to the floor or to a bed frame.
#2

Stealth Defense Vault DV652 Under Bed Gun Safe + Free 52″ Dean Safe Rifle Sock

icon-star

icon-star

icon-star

icon-star

icon-star

75 lbs
6″ x 52″ x 14″
Electronic
Rating
Weight
Dimensions
Lock
As runner up, we have the impressive Stealth Defense Vault DV652 Under Bed Gun Safe. It currently has a 5-star rating and has up to this point not received a single negative review. Let's take a closer look at what makes its owners love this under bed gun safe so much.
First of all, it has a quite sturdy 14-gauge steel construction and it's relative heavy at 74 lbs. To protect the safe against prying attacks the door is secured with a five-point locking bar. Enter your combination, slide away the locking bar, and you can easily pull out the padded tray.
Secondly, it features a U.L. Type 1 rated ESL5 electronic lock. This is the kind of lock that you will see in high-security gun safes. If you compare this lock with the locks used by some of the other under bed gun safes – it's in a league of its own.
This is the only under bed gun safe with an illuminated keypad that promotes quick and easy access in the dark. It also has a security feature that will lock out any unauthorized users for 15-minutes.
#3

SnapSafe Under Bed Safe

icon-star

icon-star

icon-star

icon-star

icon-star-o

88 lbs
7″ x 48″ x 24″
Electronic
Rating
Weight
Dimensions
Lock
SnapSafe is an American manufacturer that has produced many high-quality gun safes. The SnapSafe Under Bed Safe is no exception and the perfect option if you are looking for an affordable under bed gun safe.
This 16 gauge steel safe is perfect for securing your weapons under your bed. It offers great space for guns whether it is rifles, shotguns or handguns. You can also easily store larger valuables such as laptops alongside your firearms.
The electronic lock offers quick access and is powered by four AA batteries. The locking system also features two internal steel bolts that are handled by a turning knob. These steel locking bolts will add greater protection against prying attacks.
The heavy-duty drawer is pry-resistant as the door is recessed and it has the capacity to load over 100 lbs. Even when the drawer is fully loaded it operates smoothly and is easy to pull out from the unit with the two handles.
The first things you will notice when pulling out the drawer is the fully carpeted interior. This carpet will help to keep your valuables scratch free and to keep your firearms in place.
If the electronic lock malfunction or run out battery you can access the safe with a backup key. Additionally, there is a heavy-duty security cable included. This cable can be used to further secure this great under bed gun safe to a bed frame.
#4

V-Line Slide-Away Security Safe, Semi-Flat Black

icon-star

icon-star

icon-star

icon-star

icon-star

22 lbs
12 x 4 x 10
Mechanical
Rating
Weight
Dimensions
Lock
The V-Line Slide-Away Security Safe will meet your needs if you are looking for a small under bed gun safe. The size is perfect if you intend to store up to two handguns and want some additional space for magazines.
This 12-gauge heavy-duty steel construction is rock solid and will offer great protection for your gun. The heavy-duty pullout drawer is supported by a sturdy slider that can load up to 100 lbs. The drawer is smooth to pull and the spring load will assist you with a few inches.
The Simplex mechanical look is reliable and you don't have to think about batteries. It operates smoothly and silently compared to many electronic and biometric safes. The pushbuttons also have the right amount of tactile feedback to make it easy to open in the dark.
With the provided instructions you can easily set your combination code. You can even set a combination with two buttons pressed at once. This will give you tons of possible unique combinations to choose from.
The mounting hardware that is included will make sure the safe is firmly anchored to your bed. Instructions on how to properly install the safe under your bed are provided and easy to follow. Its size also allows it to be mounted underneath a drawer which makes it a really good nightstand gun safe as well.
Additionally, it comes with a full and half tray that can be used for organizing purposes.
#5

Titan Gun Safe

icon-star

icon-star

icon-star

icon-star

icon-star

10 lbs
11″ x 2.5″ x 8″
Mechanical
Rating
Weight
Dimensions
Lock
Another small under bed gun safe is the innovative Titan Gun Safe with its patented design. It's made out of 14-gauge steel and it's the best portable gun safe if you ask its manufacturer. This gun safe has been on the market for more than twenty years and it's still going strong.
For quick, easy, and reliable access it uses a mechanical lock with push buttons. No batteries are required, and you can choose between 2,200 possible combinations. This lock is extremely secure and will ensure the best security for your handgun.
The Titan Gun Safe come with patented brackets that allow the safe to be mounted under a bed. It also works great to mount it under a desk or in a vehicle. The safe itself can easily be mounted to the brackets as well as quickly dismounted at any time.
Additionally, it features an elevator holster system that will move the holster out of the vault when opened. This will increase the access time to your handgun significantly. A feature like this is very convenient if an emergency situation requires immediate action.
What to Think About Before Buying an under Bed Gun Safe
Buying an under bed gun safe is a smart idea to utilize the vast and empty space underneath your bed. But before you commit to a safe, there are a few things to consider if you want to reach the ultimate satisfaction.
Thoroughly research and proper planning are what will convert your hard earned money the best.
1. Make sure the safe fit underneath your bed
It's frustrating to read reviews by people that lack the ability to plan ahead. You would be surprised how many people that complain – after the purchase – that the safe is too big for their needs.
So, what can we learn from this? Well, if you buy an under bed gun safe, it's wise to look at the dimensions to ensure that the safe will fit where you want it.
Bring out your measuring tape and measure the height underneath your bed. Then use the dimensions we provide for each safe to determine if the safe will fit.
This is second nature to a lot of people but easily overlooked by others. You might be confident that you can measure with your naked eye. We would recommend you to measure anyway as your eyes can easily get tricked.
2. Capacity
The main reason to buy an under bed gun safe is to have a smart and secure place to store your firearms. For that to work out – your firearms must be able to fit to begin with. That is why capacity is another important factor to consider before your purchase.
The equation is simple, are you have long guns you will need one of the larger under bed gun safes. Even if you have a handgun a large gun safe may be the better alternative since you never know if you will get more guns. You might even want to store other valuables alongside your guns in future.
But if you only have that one handgun and don't want to expand your weapon collection – don't worry. We thought about you by including a small and sturdy gun safe that can easily be mounted under your bed.
So it doesn't matter what guns you have – we have the best under bed gun safe for all needs.
3. Mountability
Mountability may be more important for small safes, as they tend to be easier for an intruder to carry with them. But, this is true for any under bed gun safe, since they are generally light due to the typical flat design.
All of the under bed gun safes that we have picked for this article have bolt-down capability. This will have an obvious advantage when it comes to the security of your safe.
Conclusion
Having a gun safe under your bed is a nifty solution if you have limited space or simply want quick access to your guns. In this article, we provide you with five awesome gun safes that have literally been designed to be under a bed.
It doesn't matter if you have long guns or one handgun – we have the best under bed gun safe for you.