Are you looking for the best biometric gun safe and don't know where to begin? Don't worry, we have you covered. We have, in fact, reviewed the best biometric gun safes the market has to offer in 2017.
The biometric gun safes we have chosen bring the latest when it comes to fingerprint technology. They also come in different sizes to ensure you find the best biometric gun safe for your specific needs.

The Best Biometric Gun Safe Comparison Table 2017
#1

VAULTEK VT20i Biometric Handgun Safe

New for this year, we have the impressive Vaultek vt20i. This safe has impressed on us so much that we decided to declare it the best biometric gun safe in 2017.

We are absolutely thrilled with the technology, security, and reliability. It also looks awesome and it's not overly expensive. What more can you ask for? Let's inspect it closer!

First and foremost, it features a high-resolution biometric scanner that enables quick access to your handgun. You can register up to 20 fingerprints and assign two administrators.

Besides the biometric lock, it also has an electronic lock with a backlit keypad. The backlit keypad and the interior LED light will make it incredibly easy to retrieve your gun in the dark.

When it comes to security, it has a seamless 16 gauge carbon steel construction. Along with the anti-pry bars and the protected hinges, it's more or less impossible to pry.

For additional protection against burglars, it's equipped with anti-impact latches. You can also choose to mount the safe with the pre-drilled holes and the provided hardware.

Additionally, it comes with an App that allows you to operate and monitor the safe remotely. Last but not least, it has a rechargeable lithium battery that will last about 4 months. When it runs out of energy — simply recharge it with the USB charging kit.

Click here to read the full review of the Vaultek vt20i
#2

Verifi Smart.Safe. Fast Access Biometric Safe with FBI Fingerprint Sensor

Our last year's favorite, the Verifi s6000 Smart Safe, now finds itself on a, not too shabby, second place. The fight for the first place was more or less a neck-and-neck race, so we may consider this a tie.

You will find that this biometric gun safe is, just like the Vaultek vt20i, packed with great technology. The key feature is — without a doubt — the F.B.I approved biometric scanner. If we would choose the best biometric gun safe based solely on the biometrics — this would be the one.

This reliable fingerprint technology is what truly set this safe apart from most other biometric gun safes. As mentioned, it's approved by the F.B.I and the same biometrics is used by several government departments. If you are looking for social proof, this is a good indicator of its quality.

So how does it work? It uses a sophisticated 3D sensor that maps a detailed image of your fingerprint. This allows for a quick and secure authentication of your fingerprint.

Each time you use the safe it will run a self-diagnostic test and will alert you if there is an error in the system. You will see the diagnostic result on the LCD display next time you interact with the safe. Even if you don't use it often, it will still run tests regularly to make sure the system is running flawlessly.

The built in interface is another great benefit that the Verifi s6000 Smart Safe offers. From this interface, you are in control of everything. You can add and delete users, assign privileges and change settings. You can also add up to 10 fingerprints per user and up 40 in total.

If you like to stay on top of activities related to the safe you will like the access and event log. Any attempt to enter the safe will be recorded in the event and alert log with a timestamp. This allows you to keep track of any unauthorized users that have tried to access the safe.

Additionally, we have features such as AutoLock and the interior LED light. These features will make sure the safe stay locked, and to make it easier to access your handgun at night.

Last but not least, it's equipped with a 14 gauge steel body and a 8 gauge door. The door is also reinforced by 2 steel locking bolts.

If you are someone that has not been impressed by biometrics so far — the Verifi s6000 will be a pleasant surprise. The creator, Zvetco Biometrics, has over 15 years experience with biometric technology. All the experience and knowledge has helped to create — what is to a lot of people — the best biometric gun safe.

Click here to read the full review of the Verifi s6000 Smart Safe
#3

Viking Security Safe VS-25BL Biometric Safe Fingerprint Safe

Not too far behind, we find the Viking Security Safe VS-25BL Biometric safe. This safe is actually pretty awesome because it has a dual lock and an LCD display. That's more than you can ask for from our top 2.

Both the Vaultek vt20i and the Verifi s6000 Smart Safe uses awesome biometrics. Believe it or not, but the Viking Security Safe VS-25BL has comparable biometrics. In fact, the upgraded 500 DPI Optical Sensor in this Viking Safe also meet the F.B.I. requirements.

The biometric system allows you to register a total of 32 unique fingerprints. After registering your fingerprint, you will be able to gain access in a split second with only your finger. The biometric technology is truly awesome.

Let's imagine a scenario where you for some reason can't access with your fingerprint. If (a big if) that would happen, you can always fall back on the electronic lock and use the keypad or the backup key.

We have seen customers reporting using the biometric lock every day for a year without a problem. So we know for sure that this safe use highly reliable biometrics, but it's always good to have a plan B.

If you look at the construction you will see a rock solid 5mm steel door and a 2mm steel body. The door is laser cut and it's reinforced with two 20mm motorized steel locking bolts. Anyone trying to pry open this safe will face a serious challenge.

Another useful security feature is the warning beep that will alert if you have left the safe unlocked. There is also a lockout feature that will activate if you enter the wrong combination 5 times in a row.

Additionally, the interior is fully carpeted and features a LED light. Also, with the LCD Display, you will be able to mute sounds and display battery status and all the operations.

Click here to read the full review of Viking Security Safes
#4

SentrySafe Pistol Safe, Quick Access Biometric Gun Safe, Single Gun Capacity, QAP1BE

At the 4th place, we have the SentrySafe Biometric Quick Access Pistol Safe. This is the smallest biometric gun safe in this top 5 list. But hey, don't let the size fool you. This amazing biometric gun safe has received over 1,500 reviews with an average rating of 4.5.

The SentrySafe features a solid 12 gauge steel construction with a pry-resistant door. A key feature of the SentrySafe is the compression gas strut. This feature allows for a smooth, silent, and automatic opening of the safe. You only need one hand or in fact, only one finger to unlock and fully open the safe. You can, therefore, use the other (now free) hand to call the police while you grab your gun.

Besides the biometric lock, the SentrySafe is also equipped with an electronic lock. A cool thing with this dual lock is that you can require both a fingerprint and a combination to access the safe. This will obviously slow down the access time but will increase the security significantly. You can easily program which way you prefer to access the safe and there is also a backup key for emergency situations.

To further increase the security, you can mount the safe with the provided hardware. All in all, this is a great biometric gun safe that provides quick access and security for a handgun with ammunition.
#5

Gunvault SpeedVault SVB500 gun safe

Last but definitely not least, we have the unique Gunvault SpeedVault SVB500 Gun Safe. This safe has also received over 1,500 reviews with an impressive average rating of 4.5.

This is a one-of-a-kind gun safe with a flexible design that allows it to be mounted in almost any orientation. The design allows you to easily mount the safe without obstructing the opening. Which is ideal if you want to mount the safe to a desk, a nightstand, or under your bed.

The design is not only favorable from a mounting perspective. It will also allow the gravity to open the safe for you with the drop down drawer. Simply put your finger on the scanner and you will have immediate access to your handgun.

The beauty of the biometric system is that you can register many fingerprints. In fact, you can store up to 120 individual fingerprints. There is also audible feedback which can be disabled if you prefer a silent entry.

What if the batteries run out or you can't access the safe with your fingerprint? Don't worry, you will get a backup key for reliable access at any time.

Besides having a cool design and a biometric lock it also has a fairly sturdy 18 gauge steel exterior. Remember the drop-down door? It uses precise fittings that will be close to impossible to pry open. Inside, you will find a nice foam slot for a normal sized handgun and space for ammunition.

This is a high-quality biometric gun safe that attracted many gun owners out there. It's really one of the best handgun safes if you are looking for quick and secure access.

Also, Gunvault is a great brand with over 20 years of experience with biometrics. They even claim to have the lowest false reject rate, hence ensuring the best reliability on the market.
#6

Barska Biometric Safe with Fingerprint Lock

The top 5 best biometric gun safes of 2017 are set and done. Before we wrap up the reviews, we would also like to include this popular Barska safe. We had it featured as our 5th option in 2016, but instead of removing it completely — we kept it as an extra alternative.

The Barska biometric safe is spacious enough to accommodate multiple handguns. It has a 31 pounds body of steel and is further reinforced with 2 motorized steel locking bolts. The interior comes with a protective floor mat to protect your guns from scratches.

The biometric system is foolproof and offers quick and easy access. You can easily register your fingerprint in a matter of seconds, and up to 30 in total.

It also comes with pre-drilled holes along with mounting hardware so that you can fasten the safe. By grounding the safe you will make it a lot harder for someone to steal it. Additionally, you will receive two backup keys for reliable access.

Barska is one of the leading brands when it comes to biometric safes. Besides this one, they also offer a bigger and a smaller version, as well as one with a top opening lid.

It may not the best biometric gun safe out there, but if you like Barska as a brand it's definitely worth checking out.
A Biometric Gun Safe Requires Maintenance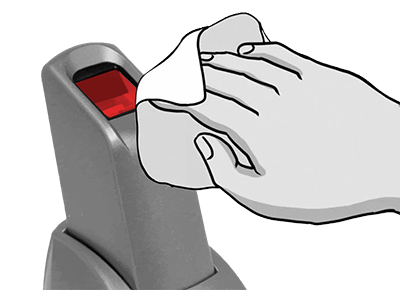 Before you buy a biometric gun safe you must be aware that such safe require maintenance. We find ourselves reading, quite often, about people having issues with the reliability. The most common issues have to do with opening the safe or to register a fingerprint.
As we see it, there are two potential reasons why these problems occur. The first reason could be that they have invested in a cheap gun safe with a lousy fingerprint scanner. The second reason, and probably most common, have to do with whether the scanner is clean or not.
It's absolutely vital that your scanner is clean to be able to accurately pick up your print. To do this, you must keep the scanner clean with a dry cloth. This will help to remove any prints or smudge on the scanner.
Trust us, you don't want to be denied access in the event of an emergency. So make sure to do some proper maintenance from time to time to get the best result out of your biometric gun safe. We also recommend that you test your registered fingerprints on a regular basis.
Remember, even the best biometric gun safe will require some degree of maintenance.
Conclusion
There you have them — the best biometric gun safes on the market in 2017. We choose these gun safes based on their biometrics, security, functionality, and customer reviews.
After considering all of these factors, we believe the Vaultek vt20i is the best biometric gun safe. Closely followed by the Verifi s6000 Smart Safe and the Viking Security Safe.
Good luck!